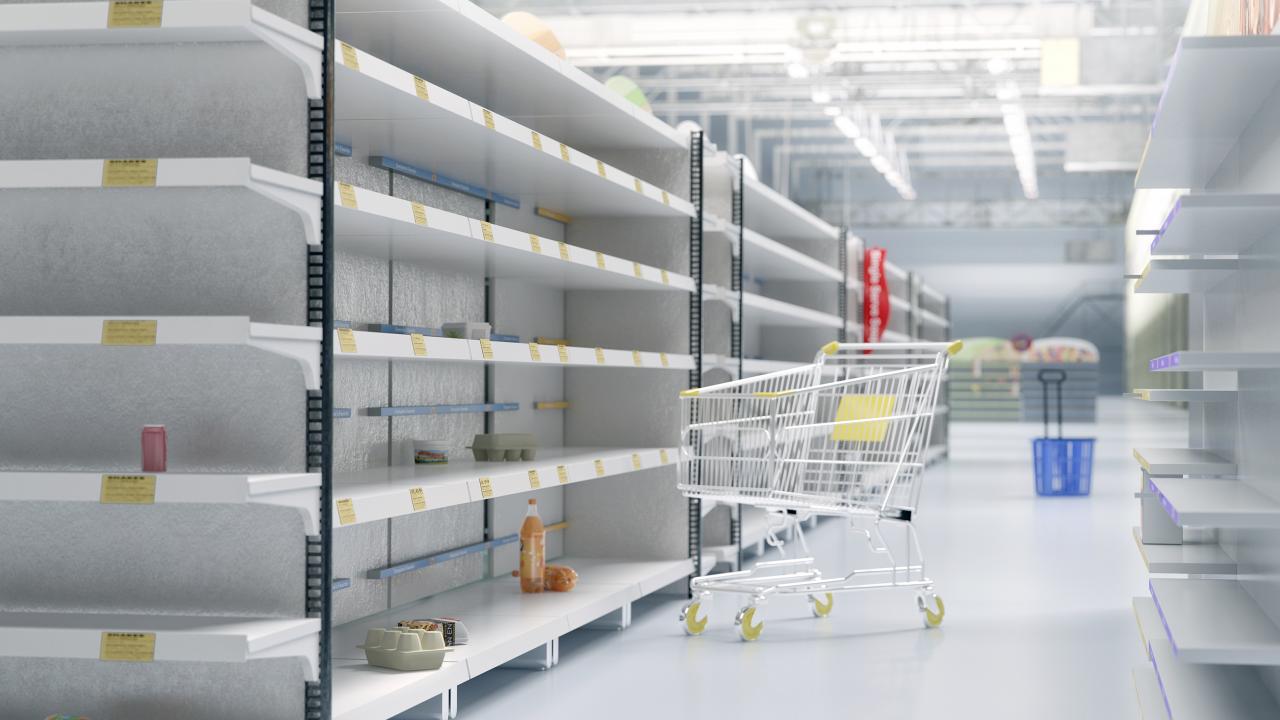 Why is milk being dumped and produce being left to rot in the fields while market shelves go empty? Why are grocery stores running out of meat, and eggs becoming so expensive? How are distributors and supply chains that serve restaurants and grocery stores adapting? An expert panel of UC Davis researchers, policymakers, and food purveyors will discuss how our food supply chain works, why the COVID-19 pandemic has been so disruptive, and whether changes can or should be made to make food systems more resilient.
Registration is now closed
Schedule:
5:00 - 6:30 p.m. PDT Savor: Food Shortages in a Pandemic, followed by audience Q&A
Speakers:
Jenny Lester Moffitt is Undersecretary at the California Department of Food and Agriculture. Appointed by Governor Jerry Brown, Moffitt works to engage stakeholders on issues that affect ranchers and farmers, including climate change, land use, water policy, and food security. She is a fifth-generation California farmer and spent 10 years as Managing Director at Dixon Ridge Farms, her family's organic walnut farm and processing operation. As a farmer and policymaker, Jenny understands the critically important role agriculture plays in sustaining our environment, rural communities and economy.
Daniel Sumner is the Frank H. Buck, Jr. Distinguished Professor in the UC Davis Department of Agricultural and Resource Economics, and the Director of the University of California Agricultural Issues Center. He has held prominent roles at the President's Council of Economic Advisers, and the U.S. Department of Agriculture, where he served as the Assistant Secretary for Economics and contributed to policy formulation and analysis on topics including food and farm programs, trade, and rural development. In 1998 he was named a fellow of the American Agricultural Economics Association for his career achievements. 
Chelsea Minor is the Corporate Director of Public Affairs for Raley's grocery chain, which operates in Northern California and Nevada. She serves as the spokeswoman for the organization, develops and executes the company's public affairs and brand reputation strategies, and manages Raley's government relations and external partnerships. Minor is the Chair of the West Sacramento Chamber of Commerce, Vice Chair of the Metro Chamber Political Action Committee and the public appointee for the California Cattle Council..  
Bu Nygrens is the Co-owner and Director of Purchasing at Veritable Vegetable (VV), a San Francisco-based organic produce distributor established in 1974. With a deep commitment to sustainable agriculture, and social and environmental responsibility, Veritable Vegetable has developed demand for local and organic produce, and provides expert regional logistics. VV supports hundreds of small to mid-size growers, operates a green fleet of trucks, and serves independent markets, restaurants and co-ops across five states. Nygrens has been with the company since 1978.
Moderator Catherine Brinkley is an Assistant Professor in the UC Davis Department of Human Ecology. Her research focuses on the architecture of food supply networks and the impacts on land-use change. She has authored over 25 publications, and her work is used internationally by the United Nations Food and Agriculture Organization. She is a former Fulbright Scholar, Watson Fellow, and National Science Foundation Career Award Winner. Her research has received support from the USDA, Pew Charitable Trusts, and National Institute of Environmental Health Sciences.
About:
Savor: Lectures on Food and Wine hosts thought leaders, entrepreneurs, policy makers and scientific experts for evenings of illuminating discussion on some of the biggest topics in food and wine being studied at UC Davis today. The Robert Mondavi Institute and UC Davis Library have embarked on this partnership to advance our shared commitment to supporting scholarship about food and wine, at UC Davis and beyond.
Venue:
This is a virtual event that will be presented via Zoom. Registration for this event will remain open until 12:00pm (PDT) on Tuesday, May 12. The webinar link will be sent to registrants approximately 2 hours before the start of the event. To ensure that you will be able to access the event, please sign up for a free Zoom account here. Please direct questions to savor@ucdavis.edu.